About Shirdi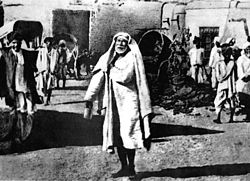 Shirdi is a town and falls under the jurisdiction of municipal council popularly known as Shirdi Nagar Panchayat, located in Rahata Taluka (Sub-division) in Ahmednagar District in the Indian state of Maharashtra.
It is accessible via the Ahmednagar - Manmad State Highway No.10, approximately 83 km from Ahmednagar and 15 km from Kopargaon.
It is located 185 km east of the Western Seashore line (the Ahmednagar - Manmad road), which is a very busy route. Shirdi is best known as the late 19th century home of the popular guru Shirdi Sai Baba.
Areas of Interest in Shirdi
Sri Sai Baba Samadhi Mandir
Dwarkamai Masjid
Sai Heritage Village
Baba's Chavadi