About Agra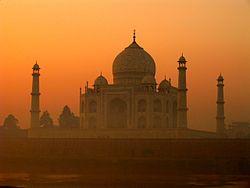 Agra is a city on the banks of the river Yamuna in the northern state of Uttar Pradesh, India.
It is 378 kilometres (235 mi) west of the state capital, Lucknow, 206 kilometres (128 mi) south of the national capital New Delhi and 125 kilometres (78 mi) north of Gwalior.
Agra is included on the Golden Triangle tourist circuit, along with Delhi and Jaipur and the Uttar Pradesh Heritage Arc, tourist circuit of UP state, along Lucknow the capital of the state and Varanasi. Agra falls within the Braj cultural region.
Climate
Agra features a semiarid climate that borders on a humid subtropical climate. The city features mild winters, hot and dry summers and a monsoon season. However the monsoons, though substantial in Agra, are not quite as heavy as the monsoon in other parts of India.
Areas of Interest in Agra
Taj Mahal
Fatehpur Sikri
Agra Fort
Wildlife SOS
Tomb of Itimad-ud-Daulah
Jama Masjid