About Khajuraho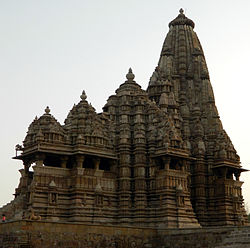 The Khajuraho Group of Monuments is a group of Hindu and Jain temples in Madhya Pradesh, India, about 175 kilometres (109 mi) southeast of Jhansi. They are one of the UNESCO World Heritage Sites in India.The temples are famous for their nagara-style architectural symbolism and their erotic sculptures.
The Khajuraho group of temples were built together but were dedicated to two religions—namely Hinduism and Jainism—suggesting a tradition of acceptance and respect for diverse religious views among Hindus and Jains.
Most Khajuraho temples were built between 950 and 1050 by the Chandela dynasty. Historical records note that the Khajuraho temple site had 85 temples by 12th century, spread over 20 square kilometers. Of these, only about 20 temples have survived, spread over 6 square kilometers.
Climate
Khajuraho enjoys typical continental type of climatic conditions. The climate during the summer (April to June) is extremely hot and the sun bakes you mercilessly all throughout the day. The maximum temperature reaches an unbearable height of about 45oC. Nevertheless, there can be drastic fluctuations in day and night temperature levels. The heat gets mild and the mercury level falls to a minimum of 21oC with nightfall.
Areas of Interest in Khajuraho
Khajuraho Temples
Panna National Park
Ajaigarh Fort
Sarai at Toria
Dhubela Museum
Chaunsat Yogini Temple
Chaturbhuj Temple